If you love your lunch, then why not make it as healthy as possible?
The Mediterranean diet has mountains of epidemiological evidence which shows it can protect against cardiovascular disease, stroke, diabetes, obesity, cancer, cognitive disorders like Alzheimer's disease, Parkinson's disease, and increased longevity.
One of the defining hallmarks of a Mediterranean style of eating is its focus on nutrient-dense, high fiber, low-calorie foods such as antioxidant-rich fruits, vegetables, whole grains, omega-3 containing fish, and monounsaturated oils.
Here are some Mediterranean diet lunch recipe ideas which will help put you on the right track toward improving your health and losing weight (and keeping it off!).
1. Shakshuka
Shakshuka is a healthy, simple lunch recipe from Israel and other parts of the Middle East and North Africa and include a delicious combination of simmering tomatoes, onions, garlic, spices and gently poached eggs.
Get the full Shakshuka recipe at Downshiftology.
2. Caprese Avocado Toast
Avocado is one of the main staple foods in the Mediterranean diet and this delicious Caprese avocado toast with tomatoes and basil delivers both taste and good nutrition all rolled into one.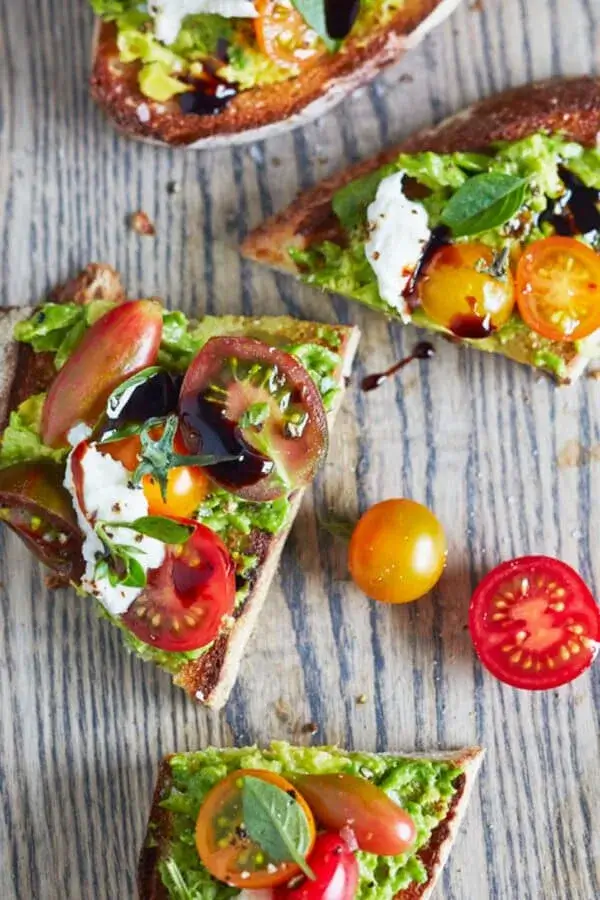 Get the full Caprese avocado toast recipe at the Kitchn.
3. Sweet Potato Hash
Loaded with healthy phytonutrients, this simple sweet potato meal is quick and easy to prepare. You can have it as your main lunch meal or as a side dish to your main lunch.
Get the full sweet potato hash recipe at A Sweet Pea Chef.
4. Spinach Curry Crepes (with Apple, Raisins, and Chickpeas)
This bright and delicious spinach curry crepes recipe is sweetened with healthy apple chunks, raisins, and chickpeas.
Get the full spinach curry crepes recipe at Prevention.
5. Orecchiette With White Beans and Spinach
This delicious lunch dish is loaded with heart-healthy and cancer-fighting vegetables and legumes.
Get the full Orecchiette With White Beans and Spinach recipe at Prevention.
6. Garlicky Greens with Harissa Yogurt
This lunch idea is loaded with healthy disease-fighting garlic, cloves, leeks, kale, dill, and broccoli, plus delicious Greek yogurt to add an extra creamy texture.
Get the full Garlicky Greens with Harissa Yogurt recipe at Delicious Magazine.
7. Mediterranean Vegetable and Sardine Salad
This light but filling roasted Mediterranean vegetable and sardine lunch salad is packed with mouth-watering tomatoes and golden sourdough croutons.
Get the full Mediterranean vegetable and sardine salad recipe at Delicious Magazine.